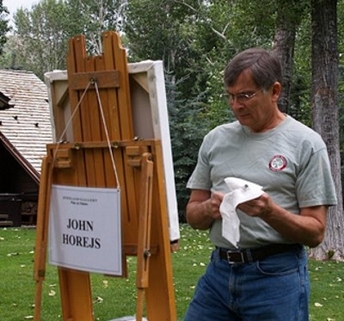 Years ago, I bought my first set of oil paints and took a few painting lessons from Aunt Barbara, my mom's sister. The small town of Twin Falls, Idaho where I was born and raised is not exactly the art capital of the world. My first recollections of viewing paintings were at the art building of the Twin Falls County Fair each fall.
From those humble beginnings in art, I have been blessed to grow and progress, and since 1986 I have supported my wife and family of nine children solely from the sales of my oil paintings through galleries across the U.S.
To me, simplicity is elegance. I paint exclusively in oils, using two brushes and seven colors plus white. My representational/impressionistic paintings are done on hand-made custom contemporary box canvases with no frames, which have become a trademark. I work on one painting at a time, as quickly as possible, so that I'm always working wet oil into wet oil paint. Most of my work is done in-studio using my own photographs of landscapes, gardens, clouds, and deserts I have visited as references.
I enjoy creating large artworks, many of which are 40"x50" and larger. My largest single panel painting so far is a 60" x 144" commission of the Boulder Mountains of Central Idaho for Key Bank in Boise, Idaho. My largest multi-panel work to date is a 75"x125" five-panel wildflower garden.
In a world that seems increasingly complex and unsettled, I strive through my paintings to convey grace, elegance, quality and beauty.
McDowell Sunset from Philip Chesley on Vimeo.
EDUCATION
John Horejs began painting in 1973. His art education has been acquired through self-directed, independent study. He has studied with Sergei Bongart, Michael Lynch, Jim Wilcox, and Olaf Moller.
STYLE
John works exclusively in oils. His style is a blend of realism and impressionism. He uses many of the techniques of the impressionists, but applies them in a more controlled, realistic manner. Favorite subject matters include wildflowers and gardens, western mountain and desert landscapes, and skyscapes.
All Horejs paintings are done on gallery-wrapped box canvases that are designed to be hung without frames. (They may, of course, be restretched and framed, or framed in deep, shadow-box frame moldings to meet the needs of the collector.)
John's palette consists of only seven colors and white. From these basic hues he creates a kaleidoscope of rich, wonderful color that has become his trademark over the years.
FAMILY
John and his wife, Elaine, have been married since 1973. They are parents of nine children, and grandparents of twenty (so far).
EXHIBITIONS AND ACQUISITIONS
John Horejs paintings have been exhibited in national juried shows including the 1983 and 1985 Annual National April Salon, Springville Museum of Art, Springville, Utah.
In August, 2007, John's landscape "Glory of Autumn" was acquired by the University of Montana Museum of Fine Art for the University's permanent collection.
GALLERY REPRESENTATION
John's paintings may be acquired through fine art galleries in Scottsdale, AZ; Sun Valley, ID; Boise, ID; Minneapolis, MN; Portland, OR; and Richmond, VA;
CORPORATE AND PUBLIC COLLECTIONS
Statehouse and Governor's Office, State of Idaho Permanent Collection
University of Montana, Missoula, Montana
Idaho State University, Pocatello, Idaho
University of Portland Hospital, Portland, Oregon
Baird, Williams, and Greer, L.L.P. Phoenix, Arizona
St. Luke's Medical Center Boise, Idaho
Boise Cascade Corporation Boise, Idaho
Morrison-Knudsen Boise, Idaho
Key Bank Boise, Idaho
Wells Fargo Bank Boise, Idaho
Wells Fargo Bank Seattle, Washington
Bonneville Power Administration Portland, Oregon
Holden, Kidwell, Hahn, and Crapo Idaho Falls, Idaho
Targun Plastics Chicago, Illinois
Magic Valley Regional Medical Center Twin Falls, Idaho
Homes, Hurley, Bryant, Lovlien, & Lynch Bend, Oregon
Elk's Rehabilitation Hospital Boise, Idaho
McDonald's Corporation Sarasota, Florida
Leonardo Lanati Furs Milan, Italy
PRIVATE COLLECTORS INCLUDE
Former U.S. Secretary of the Interior and Idaho Governor Dirk Kempthorne
Paul Allen (Microsoft, Space Plane)
John McCaw (McCaw Communications)
Steve Wynn (Las Vegas Resort Developer)
Harry Merlo (Louisiana Pacific Lumber)
Mr. and Mrs. J. R. Simplot (Simplot Idaho Potatoes)
Kirk and Toby Guthrie (Kirk Guthrie Interiors, Linkasink, Taybol)